YAMAHA MusicCast MCR-N670BLBL HI-FI AUDIO SYSTEM
€79900

€799,00
Tax included.
Shipping
calculated at checkout.
---
---
Casual, yet elegant.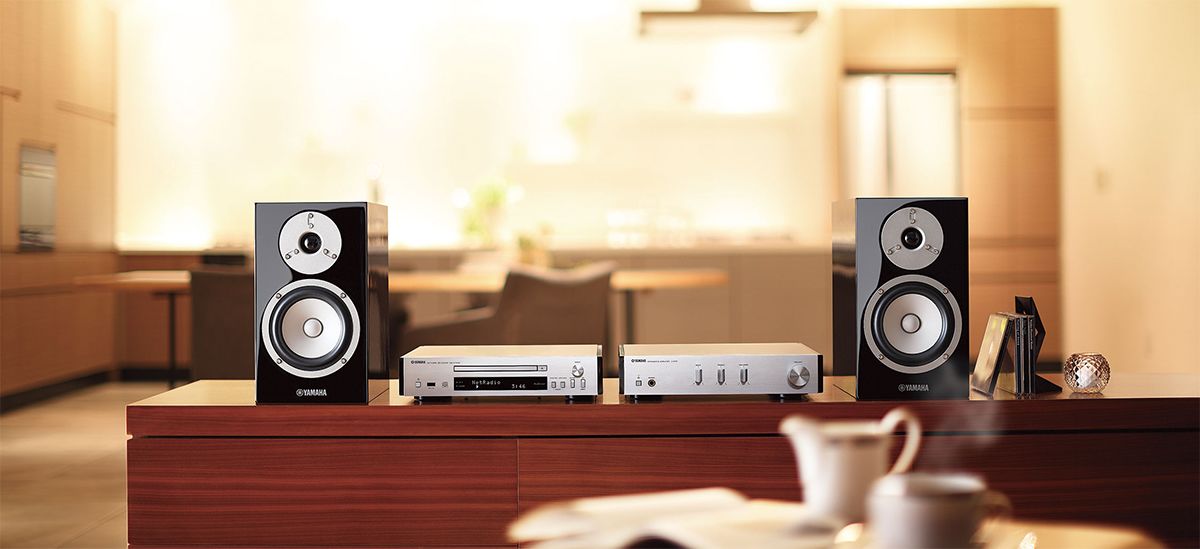 MusicCast
MusicCast is a new revolution in network audio, use all your MusicCast products together or separately, it's completely up to you. Control it, all from one app, designed to be intuitive, quick and simple to use. Use a soundbar, a wireless speaker, an AV Receiver, Hi-Fi audio whichever suits you best, mix and match then expand your MusicCast system as time goes on.
MusicCast Expands Entertainment Possibilities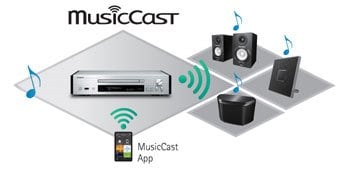 Network compatibility provides easy access to all kinds of musical sources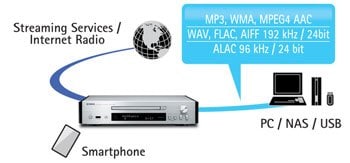 The CD player is equipped with a network player function that greatly expands your enjoyment of music: from streaming services and other internet music contents to NAS (Network HDD) or your personal computer-based music library. Consider internet radio broadcasting for example. By pre-selecting your favourite radio stations on vTuner—which provides simple access to Classic FM and radio stations around the world—you can easily enjoy the varied contents of a variety of musical genres, just as if you were listening to an FM broadcast. It features compatibility with high-resolution WAV/FLAC/AIFF 192kHz/24-bit music sources. Moreover, it has a built-in USB jack on the front panel, and can also be linked to AirPlay, for limitlessly expanding your world of music on a single device.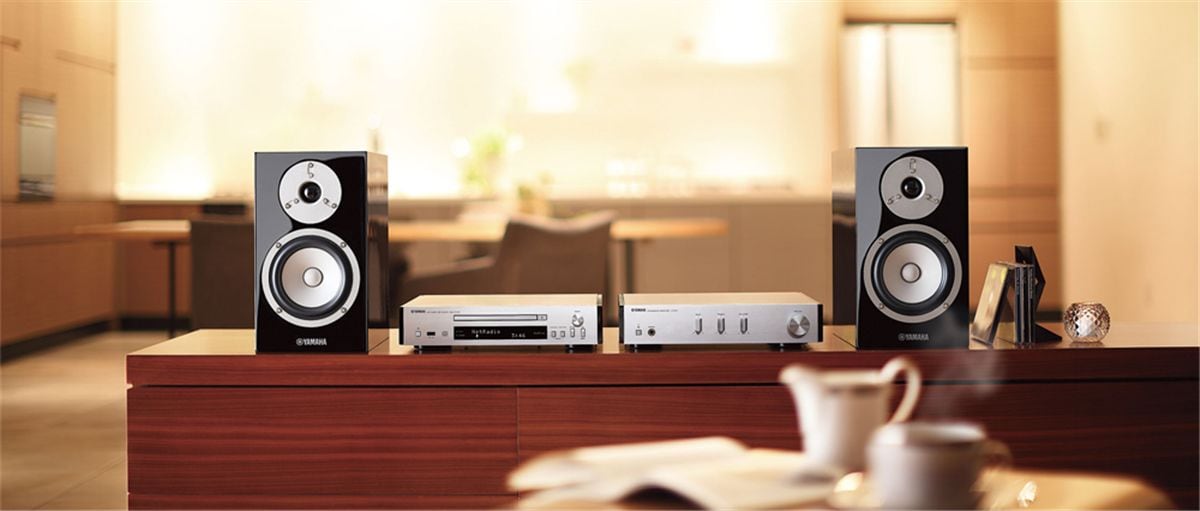 Advanced, yet simple technical design and exterior design inherited from Yamaha's HiFi tradition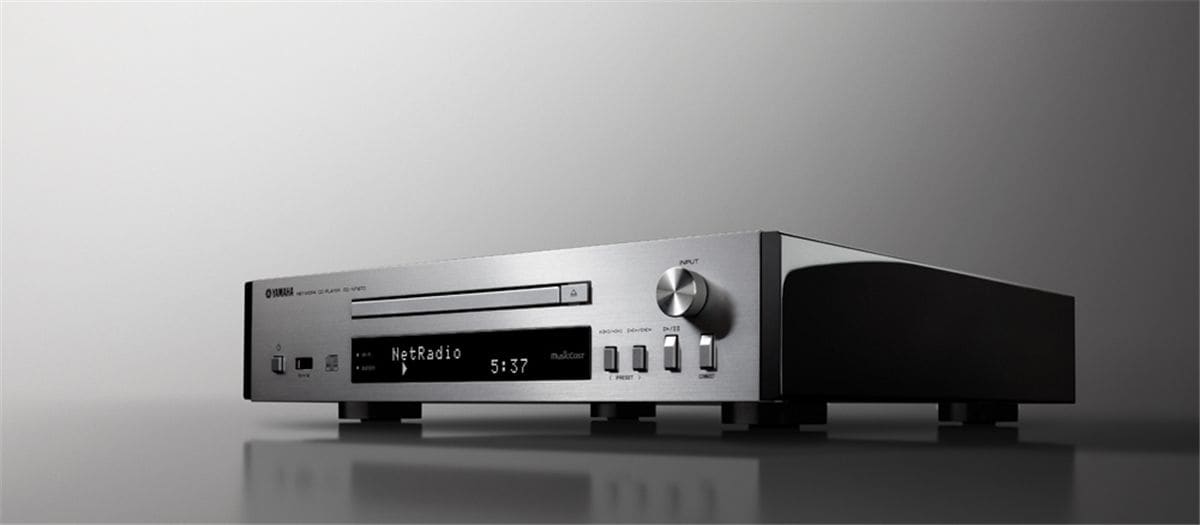 Bluetooth Output for Convenient Music Streaming
The MCR-N670 is equipped with the latest Bluetooth technology, making wireless operation more convenient than ever. You can stream music from the MCR-N670 to Bluetooth headphones for private listening or to Bluetooth speakers.
Natural PWM type digital power amp, providing natural and high-grade sound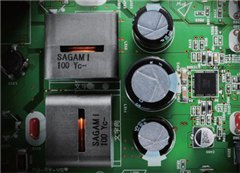 The A-670 is a premain amp that thoroughly performs the essential function of an amp, which is signal amplification, and ensures refined sound quality. In order to vividly portray everything from the delicate nuance of music to energy-filled dynamism, a digital power amp that creates high power and strong drivability with strong maximum output of 65 watts/channel, is built into the component. Natural PWM type digital modulation with an extremely simple circuit configuration provides both natural, uncoloured sound quality as well as high efficiency. And the low-pass filter of the latter part of the power amp, which significantly influences the sound quality, is a large coil made of low-loss, low-distortion OFC (oxygen-free copper) wire material. This simultaneously maintains the freshness of high-resolution sound sources, while enhancing the power of the bass and ensuring warmth in the mid and high frequency sounds—all to deliver the best quality sound reproduction, rich in musicality.
High sound quality parts preserve the purity of the sound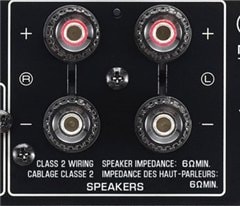 To prevent corrosion, all input and output jacks are gold-plated. High sound quality parts have been installed throughout, including the large gold plated terminals compatible with banana plugs for the speaker outputs, in order to preserve the purity of sound.
Subwoofer output for extra bass power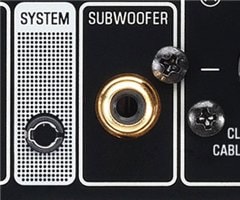 This premain amp also features a special output jack that allows you to directly connect a subwoofer to the amp-providing the extra impact of a powerful bass, and filling your room with even more dynamic sound.

High-resolution sound with spacious sound field, drawing out the full beauty of sound sources
As the speaker for this fine component system, the NS-BP301 was crafted specifically to optimally draw out the beauty of musical sources. Utilising the same diaphragm material as Yamaha's high-end Soavo Series speakers, and fine-tuning that prioritises a luxurious three-dimensional sense of space, provides these speakers with superb stereoscopic feeling and sound localisation for optimum musical enjoyment—focused on high-resolution and densely textured midrange audio, accurately reproducing the sound field with amazing depth.  

Top-performance dome tweeter and A-PMD woofer deliver high-resolution sound sources with superb sound quality

Each of these speakers is equipped with a 3cm (1-1/4") soft dome tweeter, made by coating the diaphragm and applying unique molding technology. This achieves both exceptionally high-range reproduction capability and a rich breadth of sound. The woofer is equipped with Yamaha's original 13 cm (5-1/4") diameter A-PMD (Advanced Polymer Injected Mica Diaphragm) cones, which garnered high evaluation for their performance in the Soavo Series. This results in a powerful, natural sound with excellent midrange clarity and bass response, and also ensures reproduction of high-quality, high-resolution sound sources with rich expressiveness.
Exceptionally rigid cabinet delivers clear reverberation without muddiness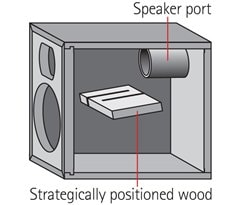 Unnecessary vibration of the cabinet is a cause of indistinct, muddy sound. These speakers feature VCCS (Vibration Control Cabinet Structure) technology that suppresses unnecessary vibration with special composite structures installed inside the cabinet. 
.